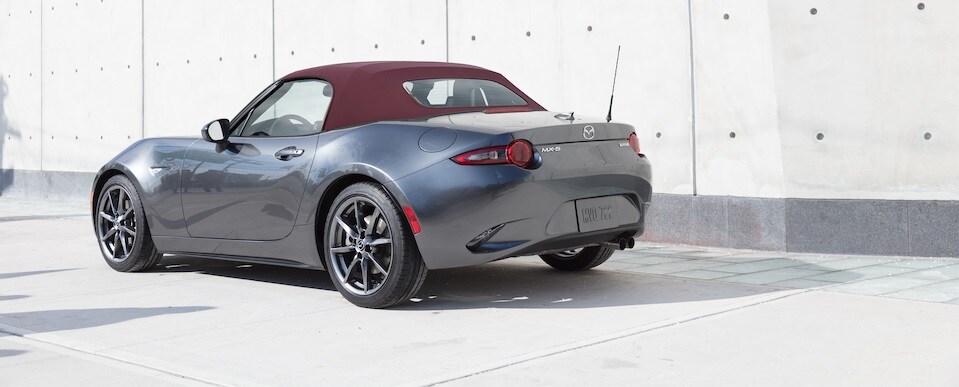 Learn More About the New Mazda Miata, for Sale in Sarasota
Effortlessly sleek, incredibly modern and fun to drive! This is the new Mazda Miata for sale near Lakewood Ranch. This Miata is a stylish convertible that is perfect for long drives in Florida. This roadster will turn heads wherever it goes thanks to its swooping lines, athletic body, and modern features. You'll feel confident and in control, no matter the length of the journey. There are three stunning trims to choose from: Sport, Club & Grand Touring. No matter your style and driving needs there is a new Mazda Miata perfectly suited to meet them.
Spirited Performance
If you are looking for a fun-to-drive car in our new inventory than the Mazda Miata should be one of your first picks. You'll be equipped with exhilarating driving from Bradenton to Venice, FL. Every time you get behind the wheel, you'll have something to look forward to.
This little car packs in a big punch with an engine that can produce up to 155 horsepower to 181 horsepower, and an increased redline to 7,500 rpm. The overall build is now lighter than ever before (trimmed 141 pounds) and weighs 2,339 pounds. When shifting gears, you'll feel a smoothness thanks to the MX-5 Miata's 6-speed manual transmission! You'll also be able to choose from an automatic option if manual just isn't your thing.
And, thanks to the SKYACTIV®-Chassis, you'll be able to aggressively take on twists, turns, and straightaways with the utmost confidence. This is what driving is all about.
Designs Features
The Mazda Miata is much more than a classic roadster. This modern convertible is designed to stand out in a crowd. No matter if you choose the classic black or the new Brown roof, you'll show off in North Port. This signature soft top can be effortlessly unlocked and put down in one easy step! When you want that open-air drive, you've been craving all you have to do is hit a button.
On the back end, the taillights have been lowered to exemplify a more modern aesthetic, which fits perfectly with the compact design. On the front end, the MX-5 Miata's aggressive shape showcases the unique stirp LED low and high beam lights. This design creates a better sense of intensity so you can arrive in style every time.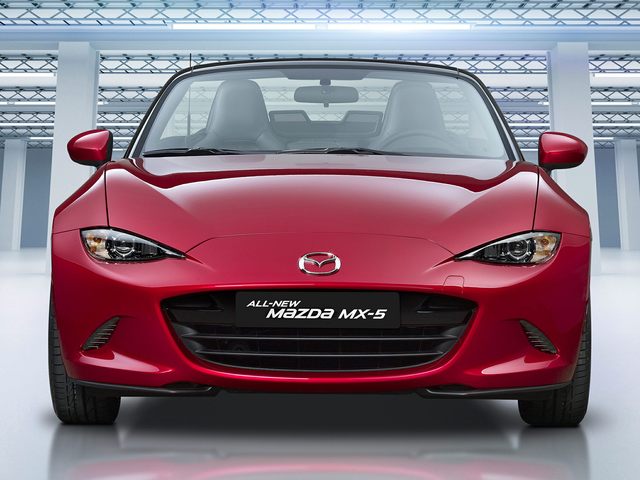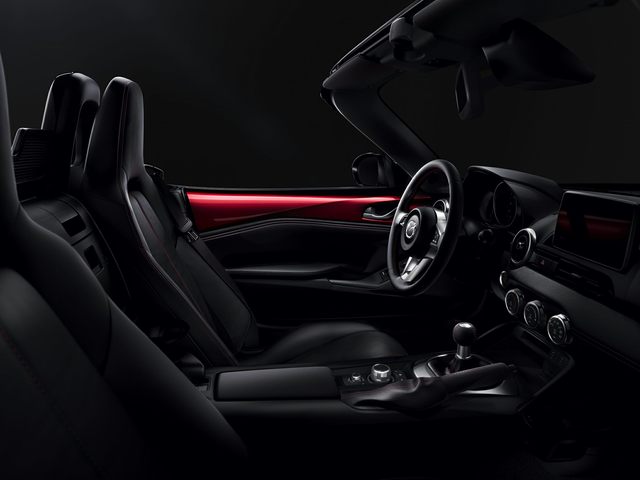 Hours
Monday

8:00am - 7:00pm

Tuesday

8:00am - 7:00pm

Wednesday

8:00am - 7:00pm

Thursday

8:00am - 7:00pm

Friday

8:00am - 7:00pm

Saturday

9:00am - 6:00pm

Sunday

Closed
See All Department Hours
Dealership Hours
Monday

8:00am - 7:00pm

Tuesday

8:00am - 7:00pm

Wednesday

8:00am - 7:00pm

Thursday

8:00am - 7:00pm

Friday

8:00am - 7:00pm

Saturday

9:00am - 6:00pm

Sunday

Closed
Parts Dept. Hours
Monday

7:30am - 5:30pm

Tuesday

7:30am - 5:30pm

Wednesday

7:30am - 5:30pm

Thursday

7:30am - 5:30pm

Friday

7:30am - 5:30pm

Saturday

Closed

Sunday

Closed
Service Dept. Hours
Monday

7:30am - 5:30pm

Tuesday

7:30am - 5:30pm

Wednesday

7:30am - 5:30pm

Thursday

7:30am - 5:30pm

Friday

7:30am - 5:30pm

Saturday

Closed

Sunday

Closed